Meet our Tigers
Welcome to our new site!
Everyone here at Noah's Lost Ark is really excited to have a new website! We have lots of ideas and will be telling stories about each of the animals that have found their forever home with us!
Please check back often to see who's story has been told and new pictures posted
BUBBA
Bubba was rescued from a cruel and abusive owner.

He was kept in a tiny cage and was full of parasites upon arrival. Our vet says Bubba is nearly blind due to interbreeding and malnutrition when he was growing. This neglect caused his skull to grown incorrectly and his eyes to be underdeveloped.
OZZIE

Mirage
SPIKIE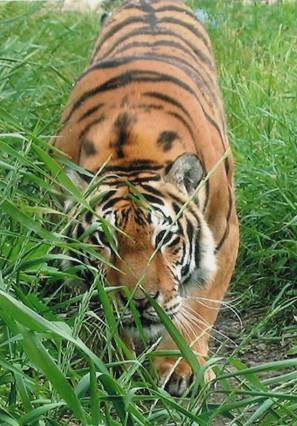 TECO
MING
TJ
SAMMIEJO
RAHRAH
NAKITA
BAMBAM
NUFFY
TRACIE
RAJAH
JAX
TONKA
ZEUS
DEEDEE
MAVERICK
MERLIN
RAMSEY
TANK
TRUCK
Aisa
Peaches
Tigger
Tigger Too
We use only
for online credit card transactions which are SECURE and FREE!